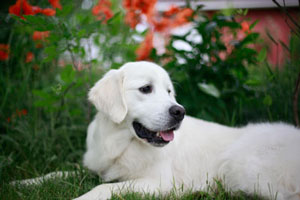 Hi my name is Carole Torgerson. I am a breeder of Golden Retrievers located in Euclid MN. Fell in love with the Golden Retriever breed and began researching pedigrees. Having a passion for helping people through the love of Goldens I went on to complete a certification course in Animal Assisted Therapy In Healing Environments. Became a Registered Pet Partner along with my therapy dog "Missie". Was one of the first pioneers of Delta Society Pet Partner Evaluators in North Dakota. Served on the board for Service Dogs For America. Became involved with Home On The Range in implementing a Canine Assisstance Program.  This has been my journey in bringing the love of Goldens to the hearts of many wonderful families.
Our goal is to provide high quality Golden Retrievers.  All of our Golden Retrievers come from exceptional blood lines with numerous champions in their pedigrees. Their pedigrees also include high quality health clearances. 
Our promise is to produce Golden Retrievers that maintain and improve the characteristics upon which the breed was founded; grace, beauty, obedience, temperament, and agility in the field, but most importantly a family companion. 
Please feel free to contact us with any questions you may have.
Carole Torgerson: 701-213-3552 or Perry Berube: 218-779-6127