Upcoming Litters 2019
Please click on Sire and Dam for Health Certifications and Pedigrees below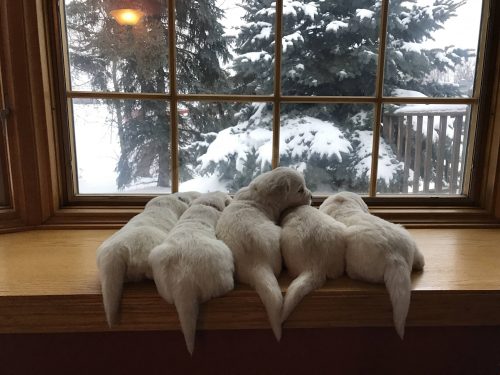 Sire: Bingley               AKC  Golden Romance D Connection
Dam: Nevaeh             AKC  Lake Country Heaven Sent's Dream
All of our puppies are loved and socialized from the minute they are born. 

 We expose 

them to new sounds, smells, surfaces to walk on, people of all sizes, dogs, etc.  Our puppies are 

brought into the lives of our elderly in nursing homes. This gives our puppies everything they need for a healthy, positive beginning in life. 
Training our puppies for you:
*We begin using the command "Come" at 3 weeks old.                
*We begin potty training at 3 weeks with use of a puppy litter box.
*We begin leash training with puppies to follow at 6 weeks old.
*We introduce sit command at 6 weeks.
*We begin crate training during the night at 7 weeks.
*Temperament tested at 7 weeks using the Volhard Puppy Aptitude Test. This along with your puppy questionnaire form, phone interview helps us match puppy with your family and lifestyle. 
If you are interested in reserving one of our puppies, please go to our puppy questionnaire form link below.